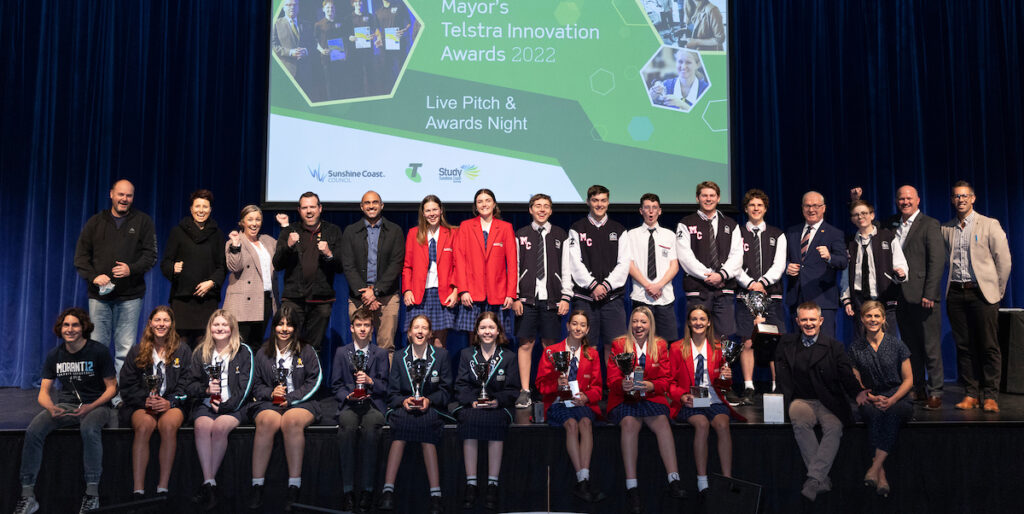 The Mayor's Telstra Innovation Awards are back next year with entries opening on 15th February 2023. Year 9 to 12 students on the Sunshine Coast will have the opportunity to create, innovate and collaborate by bringing their creative idea or business solution to life. There will be over $10,000 in prizes to share in including a personal mentor start-up incubator experience! Plus finalist teams have the opportunity to work with industry mentors and experts to further develop their idea and critical thinking.
"Our involvement in MTIA has been invaluable. We have discovered new business opportunities as a result of having been involved in MTIA. The experiences have provided us with phenomenal learning experiences. MTIA has created opportunities to learn new skills, network with others and collaborate as part of a team. Being involved in the competition was also lots of fun!"

Bird Bell, 2022 MTIA Winning Team
Teams can put their innovation and creativity skills to work by developing a new app, design and engineering project, gaming technology or robotics. The ideas and business solutions are endless. It could be a new idea for transport, health, the environment, the underprivileged, agriculture, sport, events, tourism, cyber security, conservation, construction, manufacturing energy or recreation. It could be the use of existing technology in a new way to solve a community, environmental or business challenge.
Working in up to teams of three students, year 9 to 12 high school students within the Sunshine Coast Council local government area are encouraged to apply when entries open on 15th February 2023. Schools also have the opportunity this year to embed the MTIA into their school curriculum like winning team Suncoast Christian College did in 2022. See below for more information on how to do this.
Learn more about the 2023 Mayor's Telstra Innovation Awards:
Learn more about how you can embed the MTIA into your high school curriculum like Suncoast Christian College did in 2022:
Learn more about the 2023 Mayor's Telstra Innovation awards here.
Back to all news