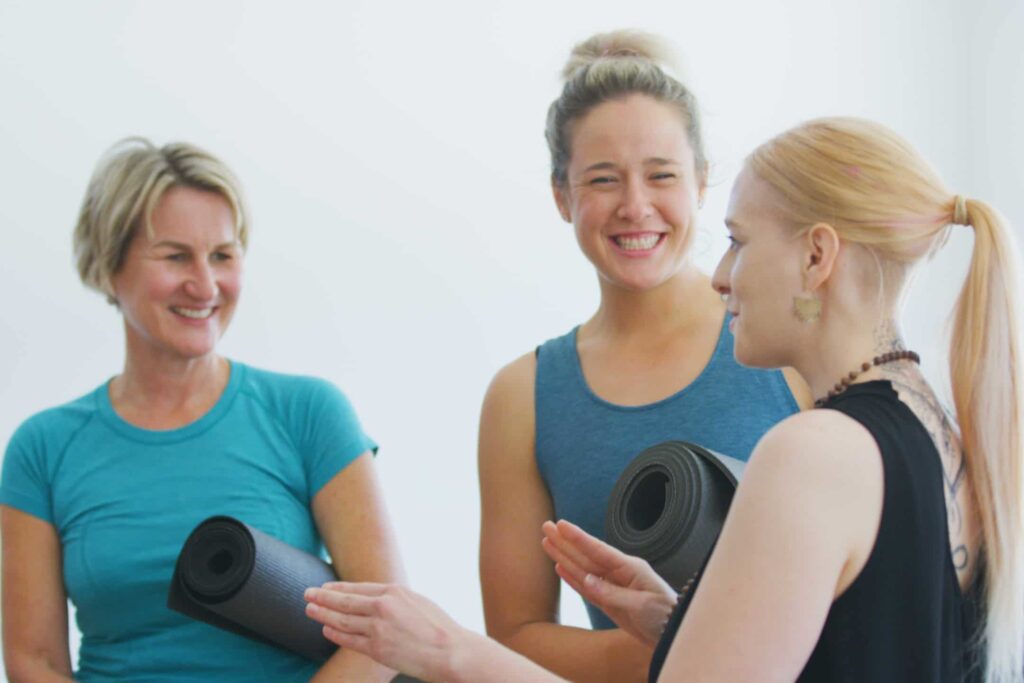 There are plenty of things to love about having a regular Yoga routine. From the grounded and centred feeling of being in a strong and flexible body to a calmer mind and a balanced approach to life, It's no surprise that Yoga is one of Australia's fastest growing fitness activities. This also makes Yoga an excellent career choice. If you feel the calling to share your love of Yoga, your journey and your learnt wisdom along the way it is time to become a certified Yoga teacher by training at Demi International.
Demi International on the Sunshine Coast offers an Advanced Diploma of Holistic Classical Yoga Practice Instructor Course. You will become an expert in advanced therapeutic Yoga through this holistic Yoga teacher training. Then take your students on a holistic yoga training journey to a life of balance, optimum health and wellbeing. Learn more now. 
Not sure how to become a Yoga teacher in Australia? Here are some career options.
Studio Classes
During your Yoga Teacher training, you will be required to keep up a regular practice with a Yoga Studio. Building a relationship with the Studio owners and other teachers may give you the opportunity to take some classes under their supervision and when you have become a certified Yoga trainer you may have the opportunity to teach classes for the studio. Yoga teachers who work for Yoga
studios of average teach 2-3 classes a day and are paid between $45 – $75 a class. This career path is the perfect complement for a Remedial Massage Therapist or other Allied Health Practitioner, Midwives and those who have employment that has flexible hours.
Private Classes
You can expect to earn more from Private Classes. These are usually one-on-one. You and a client with a specifically designed practice and holistic treatment plan that you work on together over a length of time. This is traditionally how the father of Western Yoga Krishnamacharya encourage the practice of Yoga tobe shared for the most beneficial results. You will have to take on the marketing for your classes and build your client base. You can expect to charge clients $100-$150 p/hr. These clients are often more committed to their practice, and in time may start asking you how to become a yoga teacher. You can then invite them to one of your retreats.
Retreats
This may be a more challenging career option, with more to organise but extremely rewarding. Running retreats will also challenge you personally and often requires a lot of personal growth. Retreats can be run in exotic locations or close to home and there are different kinds of retreats that you could offer. Team up with other health professionals who specialise in nutrition, Ayurveda,
meditation, mindfulness, and work together to build a retreat. 2 Yoga Retreats a year can increase your income significantly and supplement your studio or private classes.
Build a Yoga Brand
Develop your own niche. Are you the Yoga teacher who specialised in Yoga for Women, Yoga for Men? Yoga Therapy? Do you incorporate a lot of breathwork? What is your own unique strength and what is your message that you bring to your clients? Offer them something valuable and even consider running your own online studio and perhaps podcast. Whatever brand you choose to build, do it with intent. To be of service to others. Start with your local community because they are the ones that will support your studio and come to your classes and continue to build from there. Be authentic and keep yourself out of the social media "noise". It will take longer to build your own Yoga Brand, but the opportunities are limitless.
To become a certified yoga teacher in Australia you will need to complete an accredited course and complete a nominated number of training hours. Many Yoga Teacher Training courses are Brisbane based. Demi International's Advanced Diploma of Holistic Yoga Practices 52792WA in Maroochydore, has 1200 hours of mentoring and teacher training hours, giving you 12 month to integrate the teachings, practice, begin to build your client base and feel supported through the journey from passionate Yogi to Yoga Teacher Training.
Back to all news