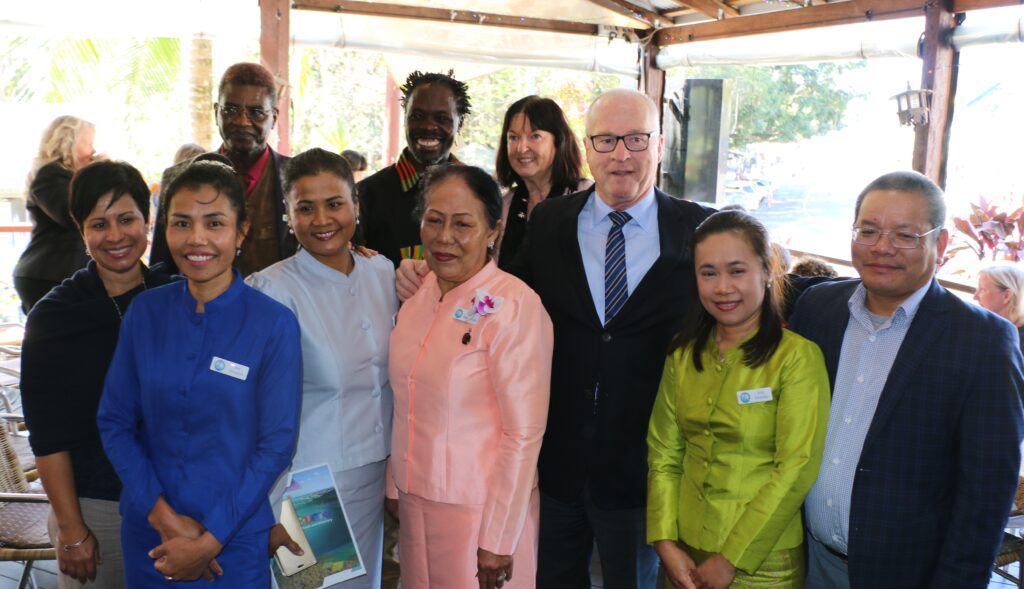 A one-stop web portal providing essential information for new migrants on the Sunshine Coast has been launched by Sunshine Coast Council today with the aim of helping new residents feel welcome and enabling them to connect with services and their community.
Sunshine Coast Council's Multicultural Welcome Hub, Handbook and Directory provide a quick and easy way for migrants to tap into information about a suite of topics ranging from health, education and transport to helpful tips on forming connections in a new community.
Migrants who have relocated from all over the globe – including Tibet, Kenya, Thailand and Germany – share their personal stories of the challenges, joys and opportunities they experienced moving to a new community.
Juan Etheridge shared her story of moving from Udon Thani – a provincial city in Thailand's north-east – to the Sunshine Coast in 2009 to be with her husband John, a Eumundi resident.
She hopes her story will help others understand how to navigate some of the challenges and inspire those contemplating a move to the Sunshine Coast to put it into action.
"Learning from other people's experiences is really useful, whether they are good or bad, you can apply what they have learnt to your own situation," Mrs Etheridge said.
The biggest hurdles Mrs Etheridge faced were learning English and understanding the culture.
"There's just so much to learn and adapt to,'' Mrs Etheridge said.
With the help of "wonderful" English as a second language (ESL) teachers at TAFE, Mrs Etheridge not only improved her English but also developed strong friendships with other migrants. A decade on, and she is thriving – running her own Thai restaurant in Eumundi and enjoying the beautiful climate, tropical produce and laid-back lifestyle. 
"The Sunshine Coast is such a beautiful place to live. There's never any drama here, people are very welcoming and it's not busy like city areas," Mrs Etheridge said.
Sunshine Coast Council Mayor Mark Jamieson said the Hub resources seek to promote a welcoming and inclusive Sunshine Coast for new migrants, contributing to their sense of belonging and affording access to opportunities, services and connections.
"Creation of the Hub aligns with our draft Sunshine Coast Community Strategy 2019-2041 which seeks to build inclusive communities by ensuring opportunities are available to all to participate both economically and socially," Mayor Jamieson said.
"It is underpinned by social justice principles of access, equity, human rights and participation to level the playing field so that everyone has the opportunity to thrive," he said.
"The Sunshine Coast has a diverse and growing multicultural population – 20% of our population was born overseas."
"The opening up of new opportunities on the Sunshine Coast is encouraging more people to relocate to our beautiful region so resources like this Hub are essential to ensure new residents feel connected and can contribute to the rich social diversity and economic success of the coast," Mayor Jamieson said.
Community portfolio councillor Jenny McKay said the Hub was created in partnership with community centres, service providers, agencies, government departments and the community with the Sunshine Coast Multicultural Advisory Group providing strategic oversight.
"Congratulations to all involved in pulling this fantastic resource together," Cr McKay said.
She said the Hub offered far more than just practical advice to migrants.
"I was particularly moved by the personal stories shared by some of our migrants and the cultural richness many have brought to our region whether it be through their professional skills, music, their art or their food," Cr McKay said.
Sunshine Coast Migrant Settlement Worker Linda Dennis said the new hub and directory would alleviate a lot of the frustration and confusion migrants can experience.
"When people come to the Sunshine Coast from overseas there is such a range of information and services they need access to and people often don't know where to go," Ms Dennis said.
"Having a central point will really improve accessibility to this information.
"Of course, the web portal will also be available 24 hours a day meaning people will be able to access it in their own time and at their own pace and even explore options before moving from overseas".
The Multicultural Welcome Hub can be accessed by visiting Sunshine Coast Council's website at  www.sunshinecoast.qld.gov.au and clicking on Multicultural.
Back to all news