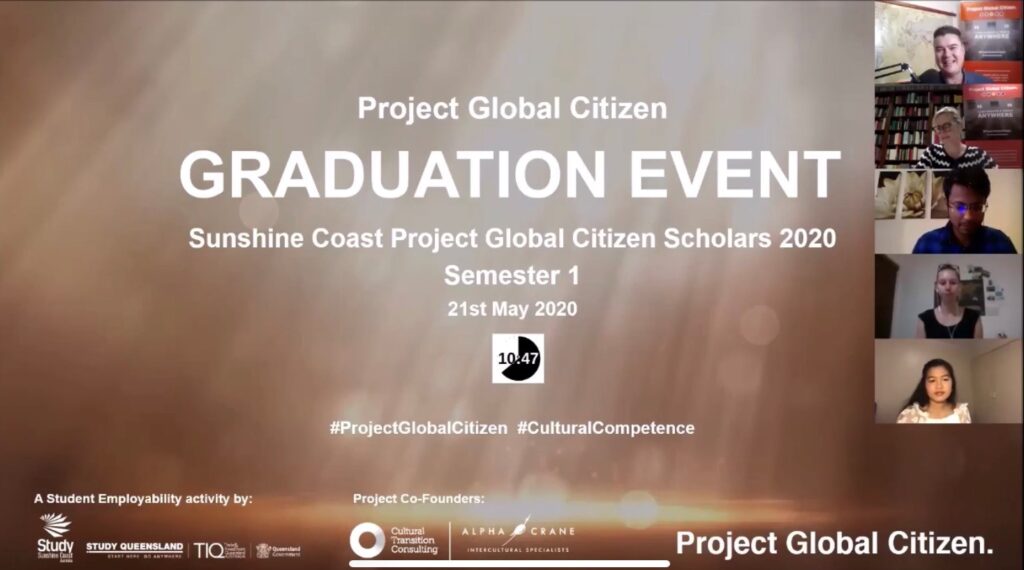 Study Sunshine Coast celebrated its Project Global Citizen Scholars with a graduation ceremony last week. Adapted to our current times and held on ZOOM, the 35 scholars were honoured through an online ceremony with VIP guests from TAFE Queensland, USC international team and the Austrade International Education Team also in attendance.
Project Global Citizen (PGC) has been an integral program of the Study Sunshine Coast (SSC) Free Student Employability Program. Marina Murray from Study Sunshine Coast said, "from research we understood from our students and our education partners the need to assist students develop and evolve their 21st century employability skills.
"PGC met these objectives by offering a personal and professional development program focused on students developing their cultural intelligence for studying, living and working across cultures as global citizens."
Study Sunshine Coast was inundated with student applications to participate in the fully funded scholarship program. Thirty five students were accepted into the PGC program and it launched with a ½ day workshop at TAFE Queensland in early March. Fortunately we were able to hold the face to face workshop right before the COVID-19 restrictions hit.
"Little did SSC know when we launched the program it would also be a beneficial platform to help you the students navigate and help break down cultural barriers during the global COVID-19 crisis," Murray said.
"Study Sunshine Coast is extremely proud of the scholars for not only participating and completing this cultural competency accelerator program, we are so inspired by the students dedication and commitment to the program, while juggling your studies over a trying period in our history."
The 35 scholars from both USC and TAFE Queensland received a certificate of participation and a micro credential they can add to their CV and LinkedIn profile showcasing completion of the PGC course. Thank you to Study Queensland who co-funded the Student Employability Program with SSC and to Craig Shim and Astrid Hofmann from Alphacrane Intercultural Specialist for running the PGC program.
Learn more about the SSC Student Employability Program.
Back to all news