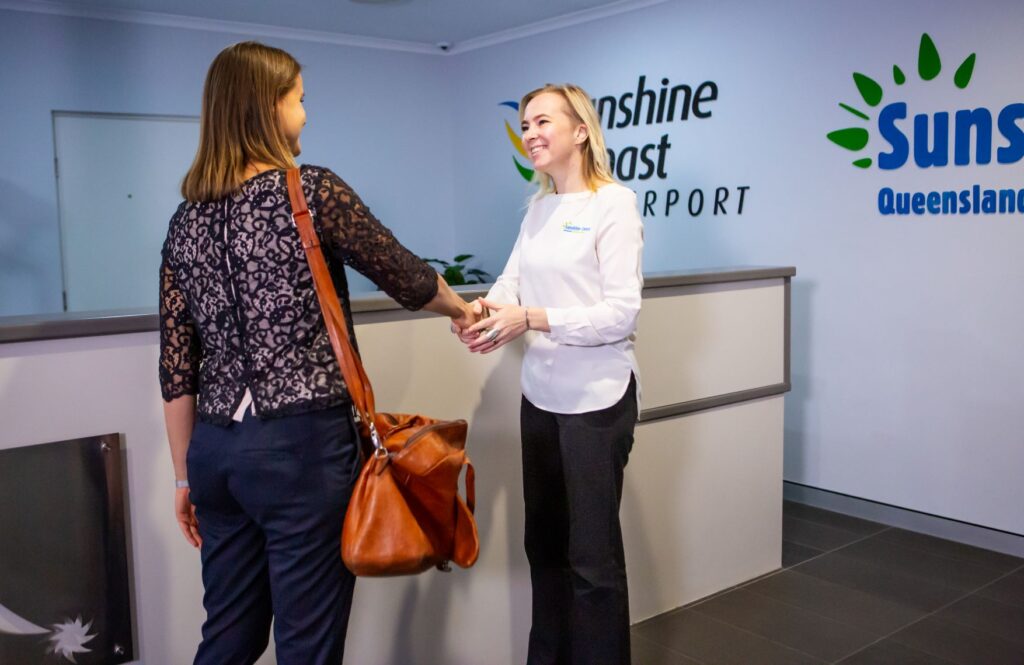 The Sunshine Coast economy is currently valued at A$17.7 billion and has outpaced most of the regional Australian economies in terms of growth over the last 15 years. This growth is expected to continue over the next 20 years to reach A$33 billion in 2033. This is encouraging news for students considering options to study and work in the region.
When looking for a job, whether it be a casual or part-time job to supplement your studies or full-time professional work once you have graduated it is worth knowing about the high value industries on the Sunshine Coast. The health and wellbeing industries are the Sunshine Coast's largest employers and is also one of the largest generators of economic activity. The industry is predicted to double its share of the employment market by 2033.
Other high value sectors include education and research; professional services; tourism, sport and leisure; agribusiness; clean technologies and aviation and aerospace.
Large companies are choosing to base themselves here, including Youi with global headquarters now in Sippy Downs just near the University of the Sunshine Coast. Maroochydore's new Central Business District is also set to shape the future, with Australia's fastest data connection to Asia from the East Coast. It is attracting considerable interest from investors and with it comes opportunity for work experience and employment. The expansion of the Sunshine Coast Airport and the development of a new Aerospace Precinct are also significant new developments for the region.
Students looking for casual work are fortunate to have access to the booming tourism, sport and leisure industry which provides almost 14% of total direct employment opportunities. These jobs can be found in hotels, restaurants, cafes at cultural festivals and sporting events as well as the numerous tourist attractions around the Sunshine Coast.
Once you have your student working visa – which allows for you to work up to 40 hours a week per fortnight during semester and full-time during study vacations – it's time to start job hunting. If you are new to the area don't be deterred by a lack of contacts, there is plenty of help available.  Here are some good places to start:
Talk to your Course Coordinators and Heads of School
These people often have a wealth of industry knowledge and connections. It pays to build positive relationships with them. Let them know you are looking for work and ask them to get in contact if they hear of any jobs that may suit you.
Online job boards
Facebook is a good place to start. There are numerous groups that help people in search of work. Sunshine Coast Jobs is worth following. Jobs on the Sunshine Coast has regular job postings across all industries. Keep an eye on Sunny Coast Jobs too. The Sunshine Coast Daily is the region's major news publication and has a jobs section which can be viewed online or in the print version of the newspaper.
Job search portals
Seek is Australia's largest online job search engine. You can search by type of job, part-time, casual or full-time and by location. Indeed is also a popular site to look for work.
Make sure your Linkedin profile is up to date
Linkedin is a professional social networking site. It is a fantastic way to keep up to date with news, trends and insights from your industry and is also a great way to find work.  Recruiters use it all the time to research candidates and head hunt for top talent so make sure your profile is up to date and looking its best.
Have a well-presented CV
An essential part of the job seeking tool kit is a professional looking Curriculum Vitae (CV).  Seek has some great articles giving advice on how to write a killer CV.
Consider an internship
There are a great range of internships and work experience opportunities available on the Sunshine Coast to help kick start your professional career. Internships and work experience opportunities are a great way to gain hands on experience while putting knowledge gained throughout studies into practice. Go to the Australian Internships website to explore prospects or check out the Sunshine Coast Council website for vacancies. Volunteering your time to help in community organisations and at events is also a great way to give your CV a boost.
Annual Careers Expo
The Sunshine Coast Daily Careers Expo on 23 July is a must visit for anyone interested in education and training or those seeking professional career development and employment opportunities. It's free too! Find out more here.
Also, Study Sunshine Coast will be launching a series of Employability resources later this year to assist students find part-time and career work. Keep an eye out for further details on this website. Remember to believe in yourself and put your best foot forward. Happy job hunting!
STUDY SUNSHINE COAST EMPLOYABILITY PROGRAM
SSC has recently been awarded funding by Study Queensland through the International Education and Training fund to run a 12-month Employability Program.  The program will be co-funded with SSC.
This project, in line with the International Education and Training Strategy to Advance Queensland 2016-2026, aims to enhance the student experience to ensure it is positive and rewarding by providing students with a range of opportunities to increase their employability and successfully transition to employment either during or post study.
Learn more about the FREE Employability Workshops offered to SC students.
Back to all news